We were invited to attend TastePRO's Brand Degustation. TastePRO is a subsidiary of Josiah's catering and is known for their corporate catering services.

This year, TastEX features three different themes aimed to present their wide array of offerings for business events, meetings and activities.

The venue was divided into three with each their respective theme.


The Oscar-themed selection, designed to celebrate the various companies' glittering success, channels the glitz and glamour of Hollywood by featuring scrumptious dishes and delectable delights worthy of the grandest company anniversaries, Christmas parties and other corporate celebrations.
Meanwhile, Architects of Greatness celebrates the occasions where the building blocks of successful businesses—great ideas—are generated, shared and exhibited: seminars, conventions, company meetings and sales rallies. This theme features a full variety of savory dishes perfected to appeal to the discriminating tastes of business professionals.
Lastly, the

Poker­-

themed selection glorifies the ingenuity, tenacity and competence of the individuals responsible for the success of these companies. To honor these characteristics, TastePRO features a delightful assortment of lip-smacking hors d'oeuvres concocted for product launches and business cocktail parties.

The dishes featured in the different themed areas actually helped us understand the different companies a little bit more. Here are some examples.
Lifestyle Asia's interpretation features
Red Beans and Shrimp Salad Cups with Southwestern BBQ Dressing
, which is a protein-rich and energy boosting dish.
TastePRO whipped up the delectable
5 Spice Braised Pork Belly Slice in Wonton Cups with Peanuts and Chives
to honor HSBC's status as the oldest and foremost financial institution in Asia.
To embody their dedication to health and well-being, TastePRO's Johnson & Johnson interpretation presents
Grilled Cilantro Chicken on Mini Whole Wheat Ciabatta with Vietnamese Dressing.
The caterer prepared no less than the best for the global leader in financial services with its JPMorgan interpretation,
Mini US Tenderloin Steak Sandwich with Onion Jam and au jus
Lastly, TastePRO embarks their guests on a gastronomic journey of epic proportions with three delectable dishes that exemplify their dedication to providing innovative and top-notch catering services to their clients.
Open Face Bacon and Egg Crostini with Hollandaise Sauce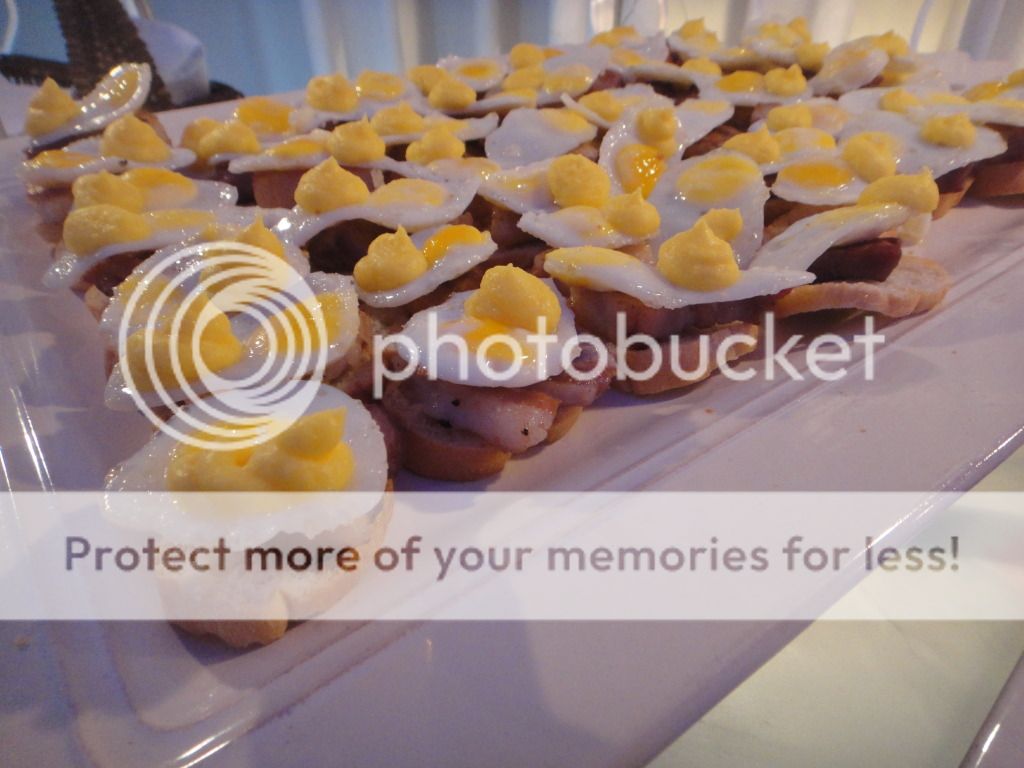 Trio of Confit Tart (Truffle Roasted Garlic and Tomato Confit, Duck Confit, Pork Confit)
Decadent Chocolate Cheese Cake
Through the delicious concoctions featured in the second installment of TastePRO's Brand Degustation, guests shall obtain a deeper understanding of this year's featured brands by indulging in interpretations of their distinct strengths that ultimately enable them to experience the real taste of success.
Josiah's has been a familiar name in the catering business. We've been to several events in the past where they were in charge of the catering and we have never been disappointed with their food and their service.